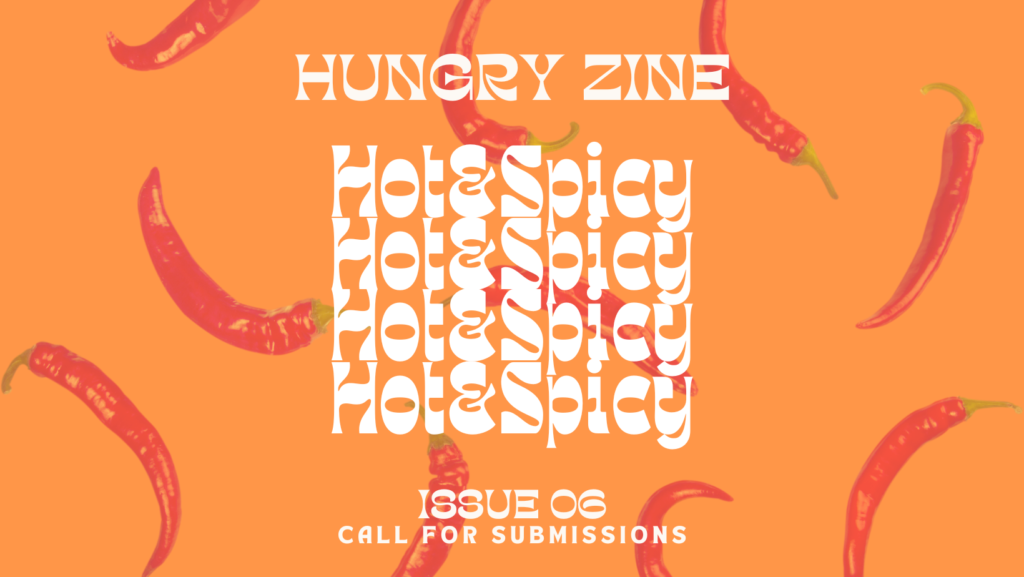 This issue is about heat and spice, romance, love, sex, and pleasure. Like a steamy bowl of laksa noodle soup, this issue might make you sweat, might make your tongue tingle like a mouthful of Sichuan peppercorns, but that's part of the experience, right? Issue 06: Hot & Spicy is an homage to the sensual, erotic, tantalizing side of food. The pleasure of nourishing our bodies. We want your foodie erotica/romance writing. Your tips on organizing your spice cupboard. Your interview with a chilli farmer. Maybe it's about your favourite restaurant to take a date to. A how-to guide on how to satiate your appetite. Your hot sauce recipe. Or perhaps a poem about that night with your partner where you thought it would be a good idea to invite some snacks into the bedroom.
Turn the lights down low and dig into this issue of food and pleasure.
Pitch deadline: March 15, 2023
Submission deadline: April 3 , 2023
Issue launch: June 2023
Payment: All contributors whose work is selected will be paid $50 upon publication of the issue.
Submit pitches and final submissions through our google form
Questions can be sent to hello@hungryzine.com.
Details:
Page size: 5 x 8 inches (or 8.5 x 11 spread), ~300 words/page.
Colour: The zine will be risograph printed in 2 colours (use any combination of these you would like in your designs).

Bright Red PANTONE 185 U (#f15060)

Black PANTONE Black U (#000000)
Submission Guidelines
Please include your name on all files.
Please note at this time we are only accepting previously unpublished submissions from authors located in so-called Canada.
Poetry: Please submit a maximum of three poems as a Google doc or Word doc.
Fiction and Nonfiction: Please submit a maximum of 1000 words as a Google doc or Word doc. Writing can include but is not limited to short stories, essays, interviews, and recipes.
Visual art and photography: Please send up to three high-resolution images. We accept submissions in colour. Please be aware that the zine will be printed on a risograph press. If you have questions about setting up your file for riso-printing, please contact us. Tips: We strongly encourage artists to keep separate layers for each ink colour as you prepare your artwork, and to submit final works as .psd or .ai files (if your piece is accepted). We (and the folks at Yolkless Press) can help with file set-up, and technical specifications, around colours and incorporating drawings. Just ask!
See more notes about file set-up and editing here: https://www.hungryzine.com/notes-on-editing-colour-and-file-set-up/
Types of content we are interested in:
Personal essays, short stories, poetry, recipes
Illustrations, photography, comics
Original reporting, investigative articles, interviews, and profiles
Pitch Guidelines
*Pitch us your idea if you prefer not to create something unless you know that we will be pursuing your piece.
Pitches should be 500 words or less.
Outline the story you want to tell or piece of art you want to create, why it matters here and now, what perspective you will bring to it, and why you think this story is a fit for Hungry.
Include your bio and links to previously published work or portfolios if you have them (no worries if you don't, we are interested in work by emerging creators too!).

We will be in touch by March 22, 2023 if we would like to pursue your piece.