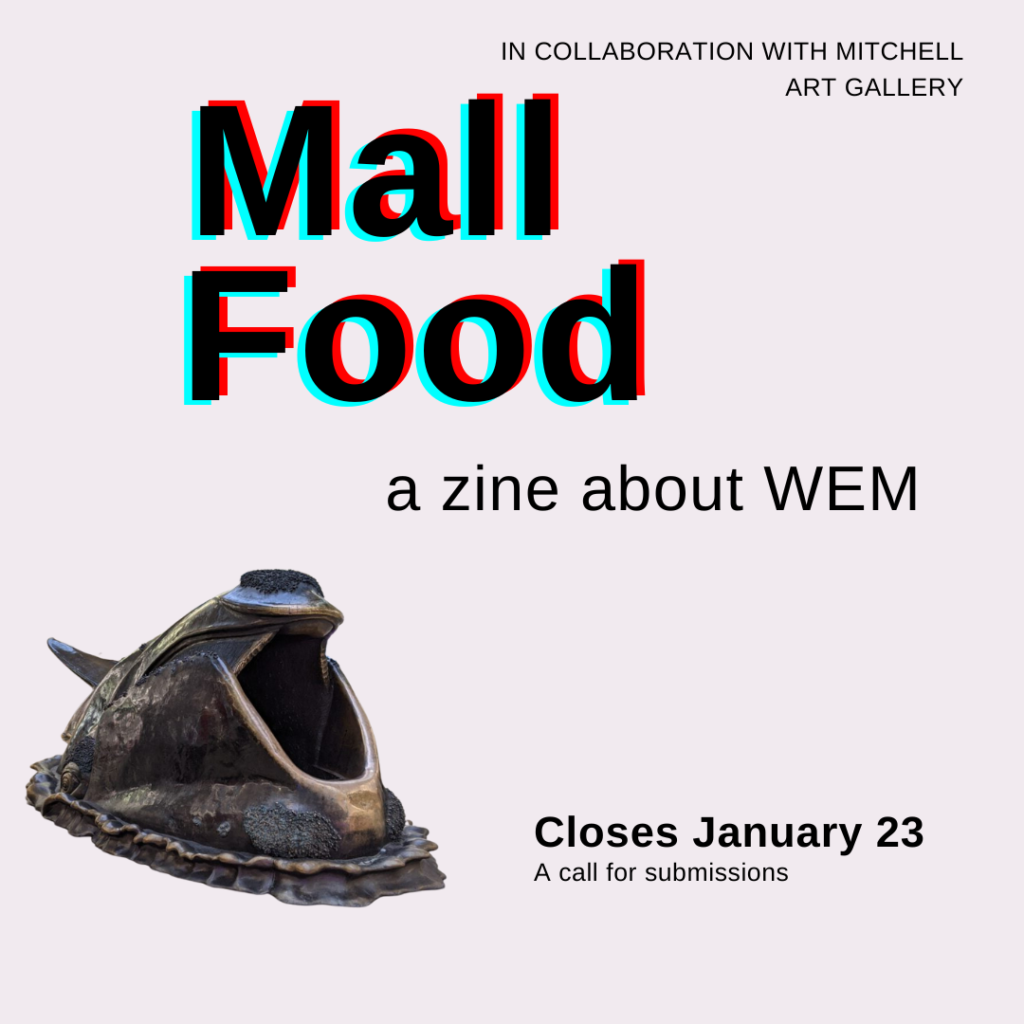 Hungry Zine x the Mitchell Art Gallery
MALL FOOD will be a collaborative zine about food culture at West Edmonton Mall, assembled over the course of the Mitchell Art Gallery's exhibition: THE MALL.
Curated by the Hungry Zine team, featuring cover art by Michelle Campos Castillo, and risograph printed by Yolkless Press, the zine will be launched at the Mitchell Art Gallery at the close of the exhibition (March 30). The zine will be (loosely) organized into four phases.
What comes to mind when you think about food at West Edmonton Mall? Food court culture? Nachos at the waterpark? The timelessness of Orange Julius? Boba? Nightlife on Bourbon Street? Food court lemon-chicken balls? The first time you tried Mexican food (ahem, Taco Time). We want your writing and art about food at West Edmonton Mall (the Mall), and all that it brings up for you – good times, capitalism and consumption, fast food, friends and family, nostalgia, local businesses, eating in public/private spaces, the 80s/90s/the millenium…the sky screamer's the limit.
Submission deadline: January 24, 2023
Issue launch: March 30, 2023
Payment: All contributors whose work is selected will be paid $75 upon publication of the issue.
Submit through our google form
Questions can be sent to hello@hungryzine.com.
Details:
Page size: 5 x 8 inches (or 8.5 x 11 spread), ~300 words/page.
Colour: The zine will be risograph printed in 3 colours (so use any combination of these you would like in your designs).

Fluo Pink PANTONE 806 U (#ff48b0)

Black PANTONE Black U (#000000)
Yellow PANTONE Yellow U (#ffe800)
Submission Guidelines
Please include your name on all files.
Please note at this time we are only accepting previously unpublished submissions from authors located in so-called Canada. 
Poetry: Please submit a maximum of three poems as a Google doc or Word doc.
Fiction and Nonfiction: Please submit a maximum of 1000 words as a Google doc or Word doc. Writing can include but is not limited to short stories, essays, interviews, and recipes. 
Visual art and photography: Please send up to three high-resolution images. We accept submissions in colour. Please be aware that the zine will be printed on a risograph press. If you have questions about setting up your file for riso-printing, please contact us.
Types of content we are interested in:
Personal essays, short stories, poetry, recipes
Illustrations, photography, comics
Original reporting, investigative articles, interviews, and profiles